House-proud lives within us.
Ours to create, yours to own.
At Status Living, we believe that to love your home is the epitome of living life to the fullest. Its design, layout and construction should be unique to you, which is why we're focussed on creating homes to fit your lifestyle, not to fit a trend.
We build your luxury home to life following a methodical, practical, hands-on approach. Our clients choose us for our approachable candour, for our passion for delivering bespoke results and for relentlessly seeking out value-engineered possibilities that we know you'll love.
Let us introduce you to a version of home you haven't met yet.
Enquire Now
Our high end reputation is reinforced by quality.
Creating projects that inspire, others to aspire to reach for the same standard.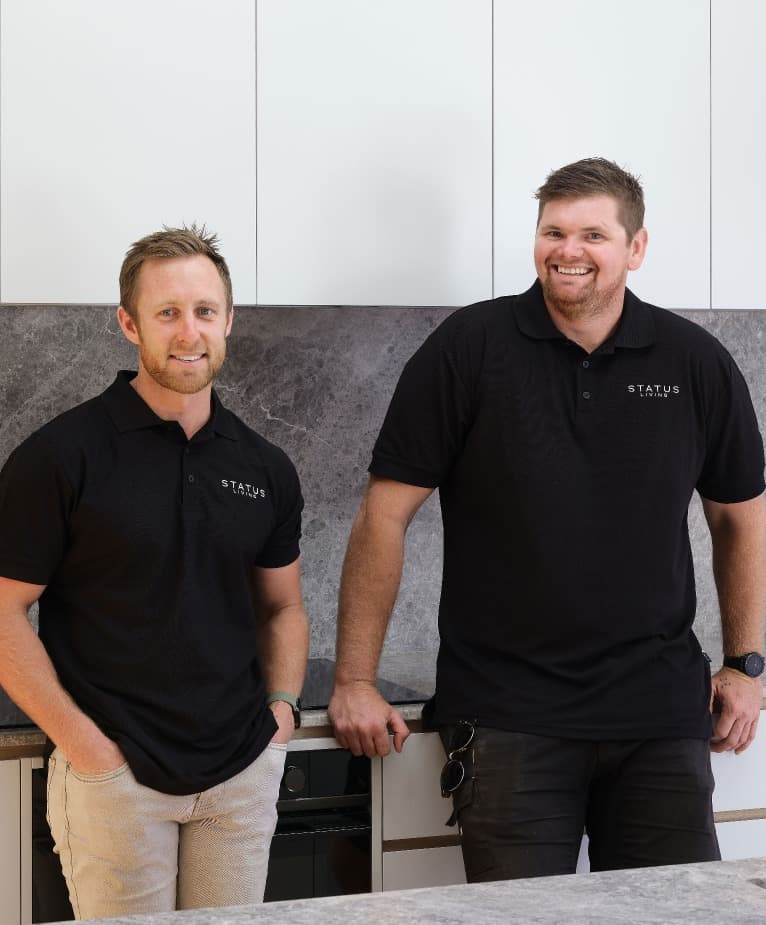 Matthew Bellingham & Brent Redmayne
Status Living was founded over 10 years ago based on the aspiration to inspire.
Both from specialist carpentry backgrounds, Matt and Brent, aspired to share their passion for curating skillfully planned and suberbly delivered projects through distinct, customised residences for discerning families who would recognise and appreciate the inspired craftsmanship.
Today, their love for carpentry is still evident, with timber featuring prominently throughout the majority of their portfolio.
See the portfolio here
Committed to craftsmanship
Status Living is nationally recognised and celebrated for our quality output. However, we view our greatest achievement as the authentic relationships we've built with our valued clients.
Learn more
What makes Status Living different?
We have a simple promise: To Do One Better. Our passion to produce means "good enough" is never enough. It simply doesn't exist in our vocabulary.
We believe that offering families a compassionate, empathetic and honest experience is the only way of working. When we establish a genuine client relationship, from the initial planning stage to our handover barbecues, achieving the ultimate outcome flows naturally. When we work together, we win together. Everyone feels house proud.
Awards we have won
We work with only the most reputable, reliable suppliers who we're proud to stand behind as some of the best in the industry at understanding and delivering your vision.
2017 - Dry Street Curtin- HIA Renovation 200-350k
2018 - Dive Place Nichols- HIA and MBA renovation 200-350k
2018 - Deloraine street Lyons- Renovation 350-500k
2019 - Love street Flynn- HIA and MBA custom build 350-550k
2019 - Munro Street Curtin- HIA custom build 500-750k
2020 - Rivett Street Hackett- HIA Spec home of the year.
2021 - Rivett Street Hackett- National Finalist Spec home of the year.
Let us introduce you to a version of home you haven't met yet.